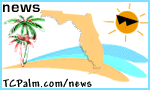 Fire in 1-room apartment seriously burns resident
January 23, 2001
Mark Pollio, Tribune staff writer
FORT PIERCE -- An obstetrician suffered serious burns over 75 percent of her body before firefighters could rescue her from a Monday morning blaze in an apartment building at Seaway Drive and Second Street.
Annelle Blanchard, 50, was in her one-room apartment at 637 N. 2nd St. when a fire broke out at 6:12 a.m. She was listed in serious condition later in the day in the Tampa Burn Unit at Tampa General Hospital.
"It's a touch-and-go situation," said St. Lucie County Fire District Capt. Buddy Emerson. "At one point, she was pronounced dead and then revived."
Fire investigators have not determined a cause of the fire.
"I heard her hollering for help," said Dale Kotthaus, who lives in the same apartment building. "She must have panicked and tried to hide in the bathroom because they found a towel around the door. I hope it saved her life."
Neighbors said Blanchard, an unemployed obstetrician, recently moved to Fort Pierce from Louisiana. Monday, her black Mazda RX-7 remained in the rear drive, still with a Louisiana license plate.
Firefighters smashed out several windows on the ground floor of the two-story building. The remaining residents were asked to evacuate.
Fire investigators estimate the blaze did $30,000 in damage to the building.