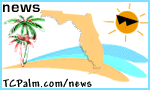 Doctor injured in fire had shadowy, troubled past
February 4, 2001
Mark Pollio, Tribune staff writer
FORT PIERCE -- If the American dream is a rise from rags to riches, Annelle Blanchard is living the American nightmare.
A wealthy New Orleans doctor who once rubbed elbows with the Big Easyís social elite, Blanchard fell into a troubled downward spiral that left her badly injured from a mysterious Jan. 22 fire in her Fort Pierce apartment.
Blanchard, 50, a Louisiana State University graduate, had risen through the ranks of the medical world. Her patients included a former New Orleans city councilwoman and famed novelist Anne Rice.
A self-proclaimed high-risk pregnancy obstetrician, Blanchard began running into legal trouble in 1994. That year, the American College of Obstetricians and Gynecologists investigated her medical practices. The review determined Blanchard was performing too many unnecessary and expensive procedures to help line her own pockets. The procedures, which Blanchard said were necessary to avoid premature birth, often cost more than $7,000.
Blanchard was also criticized for funneling patients who needed special treatment to a healthcare company of which she was part owner. Several hospitals and eventually the Louisiana State Board of Medicine suspended Blanchard's privileges to practice medicine.
Also in 1994, Blanchard became involved in a series of lawsuits related to her practice. Her privileges to work at East Jefferson General Hospital, in suburban New Orleans, were suspended that same year, according to court documents.
Two years later, two more hospitals followed suit. Kenner Regional Hospital and Doctor's Hospital suspended Blanchard's working privileges. In 1998, the Louisiana State Board of Medicine suspended Blanchard's license to practice in the state, documents state.
"She held herself out to be a high-risk specialist in obstetrics," said New Orleans attorney Rick Kelly, who represented another New Orleans doctor who blew the whistle on Blanchard. "That was not the case. Ultimately, she was not allowed to practice medicine in Louisiana."
Tallahassee attorney Jeff G. Peters said it was politics not performance that led to her problems in Louisiana.
"I don't think her skills as a doctor have ever been called into question," Peters said. "She has an outstanding reputation and there are many who have given testimonials on her behalf."
Peters said Blanchard was outspoken on women's rights issues and that irked those who administered her punishments.
"We believe the New Orleans actions taken against her were completely off-base," Peters said. "That state has a long history of charges being trumped up."
Keeping a secret
Following a flurry of lawsuits, Blanchard moved to Florida, where she has held a medical license since 1993. The license is valid through 2002. Her primary business is listed as being in Miami, but state health officials have no way to determine if she was actually practicing there. According to Florida Department of Health officials, it was Blanchard's responsibility to inform the Florida Board of Medicine within 30 days of her suspension in Louisiana.
Those officials said she kept her suspensions secret. Peters said the information was available in a national database and that Blanchard was not trying to hide anything.
Blanchard started working as an obstetrician for Trinity Medical Center, 1803 S. 25th St., Fort Pierce, in May 2000, although her Florida Health Department Practitioner Profile indicated that "I do not practice medicine in Florida."
St. Lucie County Healthy Start Executive Director Sylvie Kramer attracted Trinity, a Deerfield Beach-based company, to St. Lucie County.
Trinity received state Health Department funds through Healthy Start to help cover medical services provided to the poor and those on Medicaid. Kramer said she never met Blanchard, but she did find out about her past.
"What I was hearing about Dr. Blanchard was troubling to me," Kramer said. "There were many reports that her actions were inappropriate."
A month after Blanchard joined Trinity, Kramer ended Healthy Start's financial agreement with the clinic. The previous year Healthy Start had provided $68,000 to Trinity for medical services to the poor.
Kramer suggested that at least two Trinity doctors distance themselves from Blanchard. Those doctors continue to handle poor and Medicaid patients in their private practices with financial support from the Health Department through Healthy Start.
"How can we put our vulnerable population our children in the hands of a woman like this?" Kramer asked. "How can you get a medical license in one state, when it has been suspended in another?"
Prior suspensions discovered
During her tenure at Trinity, Blanchard was given temporary privileges called "locum tenens" to work at Lawnwood Regional Medical Center. Hospital spokeswoman Beth Tuttle said Blanchard worked at Lawnwood for three weeks from May 31 to June 22, 2000.
"I would assume she saw patients during that time," Tuttle said. "There is a process in place where information about her suspensions would come to light."
Tuttle said a doctor would have to prove that he or she had a Florida medical license and had been on staff at another hospital to receive privileges at Lawnwood. A lengthy credentialing process, including interviews with several hospital staff, must be completed for permanent privileges to be granted.
When asked if a doctor with a suspended license from another state would be allowed to work at Lawnwood, Tuttle said each application would be reviewed on a case-by-case basis.
Trinity office manager Vicki Perdiue said Blanchard "is in the process of being credentialed at Lawnwood." When asked whether Trinity was aware of Blanchard's prior suspensions, Perdiue said the corporate office had no comment.
On June 19, 2000, the Health Department filed an administrative complaint against Blanchard after her prior suspensions were discovered. In the complaint, the Health Department argues Blanchard was suspended because she had a drug problem.
"[Blanchard] has for an extended period suffered from and currently suffers from continuing and recurring excessive use and abuse of controlled substances, which renders her unable to practice medicine with responsible skill and safety to patients," the complaint states.
"When you get in trouble in another state, it has to be reported to other states," said April Crowley, Health Department spokeswoman. "The Florida Agency for Healthcare Administration then investigates and tells the Board of Medicine if they see an immediate threat. If there is, the doctor can be suspended."
Blanchard filed a consent agreement with the Agency For Health Care Administration on Nov. 1, 2000. This was Blanchard's first response to the allegations brought in the original complaint.
In the consent agreement, Blanchard suggests several punishments for her actions. The punishments include a $1,000 fine, reimbursement of costs incurred by the Health Department for its investigation, and entrance into the Physicians Recovery Network. Blanchard did not offer to have her license suspended.
"It is a long litigation process and this is just the start," Crowley said. "The Board of Medicine can say ënoí to the consent agreement. The board has the final say."
Peters said he expected the Board of Medicine to approve the consent agreement.
The agreement was originally scheduled to be discussed at a Board of Medicine meeting in December, but it was put off until January. The issue is on hold indefinitely as Blanchard recovers from injuries suffered in an apartment fire.
The fire that nearly killed Blanchard is still under investigation. It broke out at 6:15 a.m. in her one-room apartment at 637 North Second Street, on the corner of Seaway Drive. Blanchard was paying $350 a month in rent.
Blanchard is currently listed in critical condition at the Tampa General Hospital burn unit. She suffered second- and third-degree burns over 75 percent of her body, according to fire district officials.
When paramedics originally treated her at the scene, she was pronounced dead and then revived. Her windpipe had collapsed and a tube had to be inserted for her to breathe. "The investigation of a cause is undetermined until all the pieces are put together," said St. Lucie Fire District spokesman Capt. Buddy Emerson. "That means talking to Blanchard."
When asked whether a cause could ever be determined if Blanchard is never able to talk with investigators, Emerson said it was possible. Peters said Blanchard had complained about wiring problems in the apartment.
An investigation by Nationwide Insurance, the company that insured the apartment building, determined several bottles of narcotics were found in Blanchard's unit after the fire.
Christine Johns, who owns the two-story apartment that burned, said Blanchard moved in on Jan. 1.
"She wanted to save some money," Johns said. "She had been living in a condominium on the beach."
Johns said officials from Trinity came to Blanchard's apartment the day of the fire and removed personal items, including her black Mazda RX-7 that still had a Louisiana license plate on it.
Johns said a Trinity employee went straight for the freezer and removed a small item wrapped in foil without saying what it was. Perdiue said Trinity employees went to the apartment because they were concerned Blanchard's personal effects might be stolen.
Blanchard did live in a luxury condo on the beach before moving into the low-rent apartment. Realtor Steve Patterson said Blanchard rented villa number 723 in Ocean Village, 2400 S. Ocean Blvd, for $1,000 per month from May to December. Patterson said the villas cost $600 a week in season.
"She was a little different," Patterson said. "There was some erratic behavior."